Leave Planner Software for Pets:
Because Fido Deserves a Vacation Too
This is the true story of Fido - the most loyal dog.
The streets of Luco di Mugello were quiet as the autumn breeze swept through the small town in Tuscany, Italy. It was the year 1941, and Fido, a stray dog, roamed the streets in search of food and shelter. Despite his tough exterior, Fido had a kind and gentle spirit that won the hearts of many who crossed his path.
One fateful November night, Fido lay injured in a roadside ditch, unable to move. It was then that he met Carlo Soriani, a brick kiln worker on his way home from the bus stop. Soriani took Fido in and nursed him back to health. It wasn't long before Soriani and his wife decided to adopt the faithful dog and named him Fido, meaning faithful in Latin.
Fido quickly became a loyal companion to Soriani, following him to the bus stop in the central square of Luco di Mugello each morning as he headed to work. And when the bus returned in the evening, Fido would be there waiting for Soriani to return.
But tragedy struck on December 30, 1943, when Soriani was killed during an Allied bombardment in Borgo San Lorenzo. Fido waited at the bus stop, as he always did, but Soriani never returned. Despite this, Fido continued to wait at the bus stop every day for the next 14 years, hoping that one day his master would come back to him.
Fido's extraordinary faithfulness captured the attention of the media and the hearts of the people of Borgo San Lorenzo. His story spread across Italy and beyond, becoming a symbol of unwavering loyalty and devotion. And even after Fido's death on June 9, 1958, his legacy lived on, as he was buried outside the cemetery of Luco di Mugello beside his beloved master, Carlo Soriani.
This is the story of Fido, the faithful dog who waited for his master until the very end.
Our 15% pledge to dog charities
From the very start, as dog lovers and owners, we pledged to donate 15% of our profits to dog charities that really make a difference in helping dogs in need.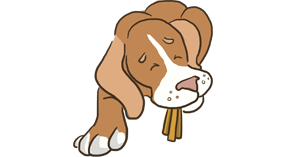 That's why we made Luna, a spaniel that lives with our founder Kieran, our mascot.
We hope that Fido would have appreciated Absentia's mission!
As a faithful dog who found love after being on the verge of death, Fido would have surely wanted to help other dogs in need.
With Absentia's donations to dog charities, Fido's legacy of loyalty and devotion can continue to live on.
Annual Leave Management Made Easy!
Ready to try out our system? Get started with our free trial for 30 days.
We hope that Fido's story of unwavering loyalty and dedication to his owner have touched your heart and inspired you to cherish and appreciate the strong and loving connection you share with your own dog friends.
May Fido's story remind us all of the incredible bond that exists between humans and dogs, and may we strive to honor and nurture that bond in our own lives.
Remember to take the time to show your furry companion just how much you love and appreciate them, and may your relationship with them be filled with joy, companionship, and unwavering loyalty for years to come.