What is Discretionary Leave in the workplace?
A discretionary day or discretionary leave is a day off work that is intended to be used for one off and unexpected occasions that are not vacations.
Common examples include:
Religious holiday
Family event
Health appointment (dentist or doctors visit)
Bereavement (funeral or similar)
Fertility treatment
Administrative (e.g. house move)
The goal of discretionary leave is to allow you to use your full vacation allowance for holidays without worrying about leaving a few days for unforeseen events that require time off work.
Discretionary days are not intended to be combined with vacation for a longer break and they're not intended to be saved to be used at the end of the year. Due to their nature, discretionary days are rarely planned far in advance.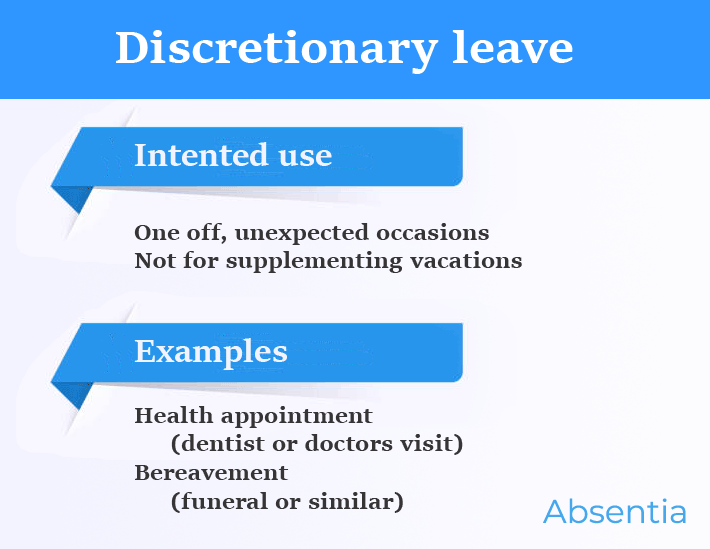 Common usage
A common allowance for discretionary leave is 5 days per year for full time employees.
The leave is usually at full pay with full benefits but this is not always the case. If the leave is unpaid it should generally be referred to as 'unpaid leave' as the discretion aspect often no longer applies.
Employers generally put in place some minimum requirements to be eligible for discretionary leave, part time workers may have limited or no discretionary leave. There is often a minimum amount of hours worked required to qualify.
Discretionary leave is sometimes awarded for personal achievements but extra vacation allowance is often better suited for rewarded leave.
Policy document best practices
To ensure a non-discriminatory approach is taken when employees request discretionary leave a policy document is good practice.
This policy document should setout:
The types of situations that would qualify for discretionary leave
Any length of service or hours worked required to qualify
the duration of leave that can be taken
whether the leave is paid or unpaid and which benefits apply