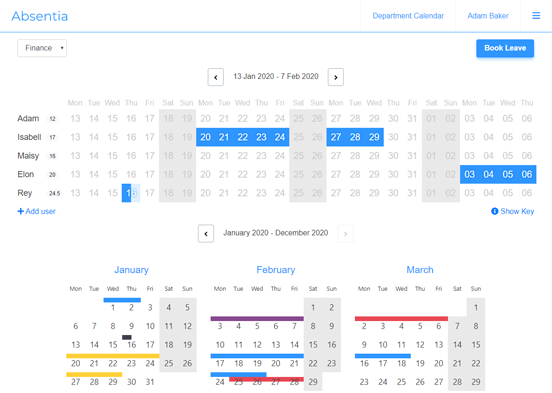 Online tracker system
Enable your staff to view absences and track absences online with a few clicks. When required holiday requests are sent to their manager for approval.
Our absence tracker can cater for companies big and small with support for departments, custom leave types, user work schedules, reporting and more.
You can get started with your free 30 day trial in just 5 minutes.
Learn more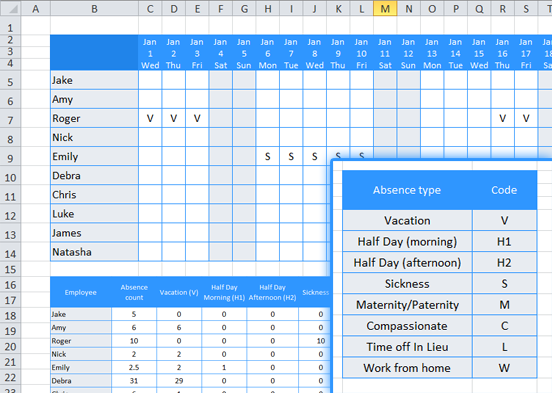 Excel tracker template
A free and easy way to get started tracking your team's absences. Great for small teams and those without a budget for a hosted absence tracker.
The template supports any number of employees, a wide range of absence types and a helpful totals tab with yearly absence info.
We offer the template as a completely free download.
Go to download
Absence tracker solutions for modern companies
Having a solid absence tracker is a must for any company. Even with just 2 employees it becomes cumbersome to manage without a process in place.
We know better leave planning can improve collaboration and boost effectiveness within a team. We also know that every company is unique and that one size doesn't always fit all.
That's why we've built not one but two absence trackers. You can see them both above.
What is an absence tracker?
An absence tracker is a tool which helps you keep track of your employee's absences.
These tools can come in a variety of shapes and sizes including as an Excel template or as an online (cloud) system.
Excel based absence tracker
An Excel based absence tracker is easy to get started with as long as you have Excel installed. You can simply download the template and start adding your users and absences.
The drawbacks of an Excel template come out especially when you have more than a few employees to manage.

All absence requests and queries have to come through the manager, it is not possible for the employees to plan their absences without querying dates with their manager.
Requests can come via a phone call, message or email which can make it hard to keep track of absence requests.
Being contained in a single file also makes it easier to misplace or delete.
Should you encounter an IT issue such file corruption or even a lost laptop you risk loosing all your absence info. It is important to ensure your spreadsheet is backed-up regularly.
Excel templates also lack the functionality to validate inputs to prevent errors.
Online absence tracker systems
A hosted (cloud based) system will scale a lot better for companies with more than a few employees. These systems allow your employees to book their own holidays with an approvals system for their manager to easily approve the absence.
Employees also have the ability to view their own absences on the system. This reduces the number of questions that managers will receive regarding the employee's absences.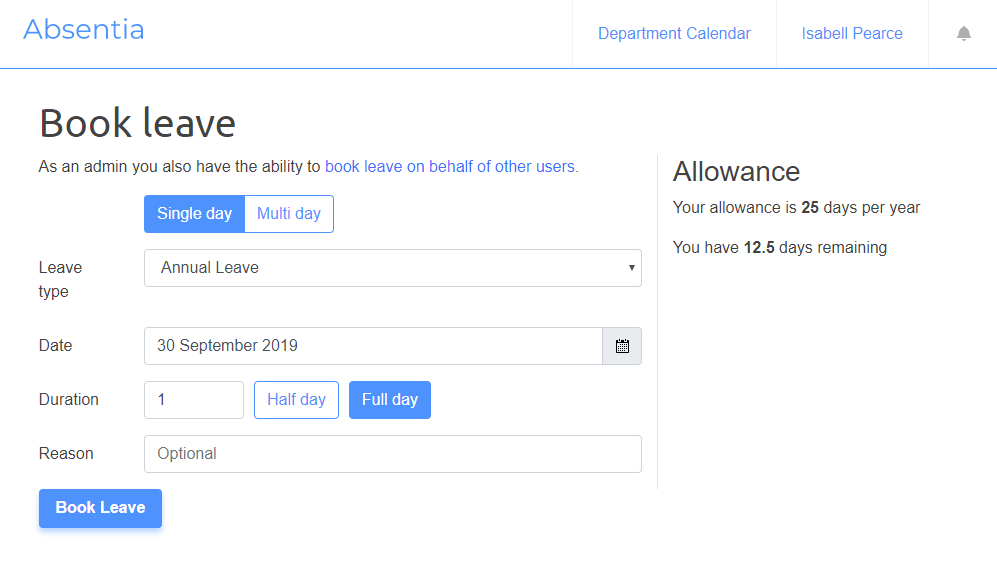 Errors are prevented with checks to ensure that employees cannot book more absences than their allowance, along with other validation this helps make tracking absences a care free process.
These systems also allow management to easily view stats and figures on absence data. The easy to access reports also help with planning and estimating upcoming work.
---

By Kieran Baker, Absentia Founder