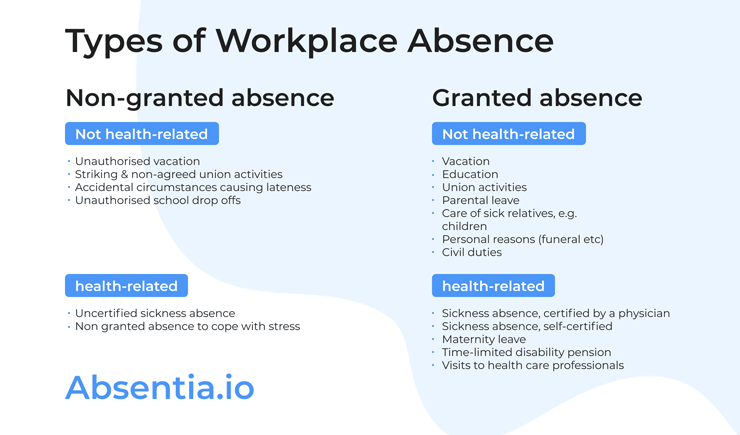 Types of absences at the workplace
The study on workplace absences from the Scandinavian journal of social medicine distinguishes two main types of absences:
avoidable absences
unavoidable absences
We researched the top studies on absences while building our absence tracker system to better understand the impact and causes of absences.
Granted absences
The most common types of granted absences are:
Annual leave/vacation
Parental leave
Personal reasons e.g. funeral
Sickness (certified by a physician)
Maternity leave
Visits to healthcare professionals e.g. dentist
Non-granted absences
The common unavoidable absences include:
Personal reasons as above, but not granted
Striking
Accidental lateness
Uncertified sickness
Stress related absence
These are the absences that you will want to limit and where your absence management strategy comes in.
Sickness absence
The single highest impact absence that greaty impacts the economy, individuals and society. In the United Kingdom in 2020 1.8% of working hours were lost due to sickness absence.
Although sickness is the biggest impacting absence type we are seeing the lowest sickness absence rates since records began in 1995.
During the height of the pandemic in the UK, 14% of all sickness absences were attributed to the coronavirus.
The government survey shows that sickness rates are actually trending down and saw a significant fall in 2020.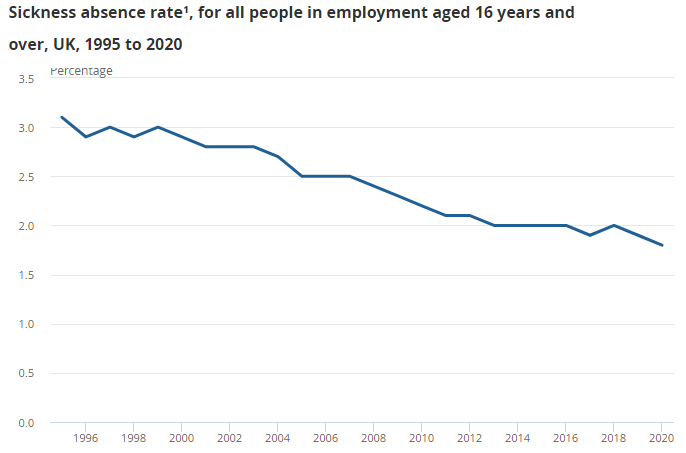 Breaking down the sickness category down further you find that the most common sicknesses causing absences are coughs, colds and flu; nausea and diarrhoea. These account for 26% of sickness absences.
Mental health conditions come in 5th on the list at 11%. This includes stress, depression and anxiety.
Unsurprisingly musculoskeletal problems are also high on the list with 15%. Likely caused by the rise of office jobs; this category covers neck and back pain and upper limb problems.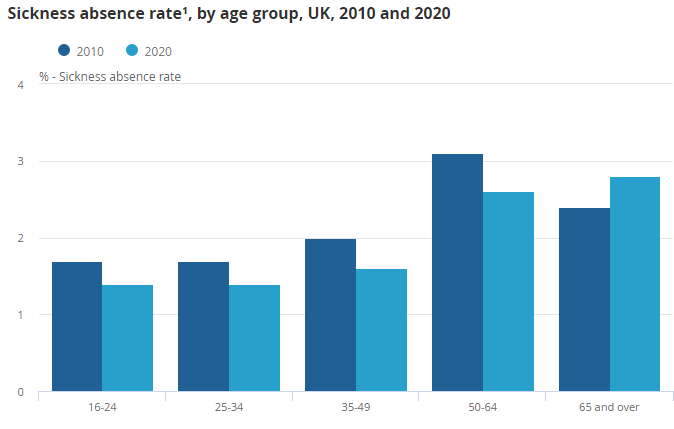 Another interesting statistic is the sickness rate by age group breakdown. The absence rate is pretty consistent through the years up till the 50s when they start to pick up by a whole percentage point.
Holiday absence
Also known as vacation if you're stateside, it is the
Our data shows that a massive 88% of absences are holiday absences. This is great news, it means employees are getting time to recharge and be with their families.
Research into the effect of holidays on employees concludes that taking time off is a great opprtunity to replenish lost resources and to increase employee hapiness. Said happiness can help act as a buffer for any workplace stress upon return to work.