Emergency Annual Leave: A Safety Net for Unexpected Situations
Emergency annual leave is paid time off that employees can take for urgent and unforeseen situations, such as illness, family emergencies, or unexpected events that require immediate attention. It is different from regular annual leave and is often a legal requirement for employers to provide.
Reasons for emergency leave
Here are some examples of emergency annual leave reasons, which are situations that require immediate attention:
Personal illness or injury
Caring for a sick or injured family member
Bereavement or funeral arrangements for a family member
Natural disasters or other unforeseen events that require immediate attention
Domestic or family violence situations
Court appearances or jury duty
Urgent home repairs or maintenance
Family emergencies, such as a child needing to be picked up from school due to illness
Unexpected travel due to personal or family emergencies
Quarantine related reasons, such as quarantine or caring for a sick family member.
The following leave categories often also fall into the emergency annual leave grouping: sick leave, bereavement leave, family and domestic violence leave, and COVID-19 related leave. While these may be separate types of leave, they are all intended to provide employees with the flexibility to take time off when they need it most due to urgent and unexpected situations.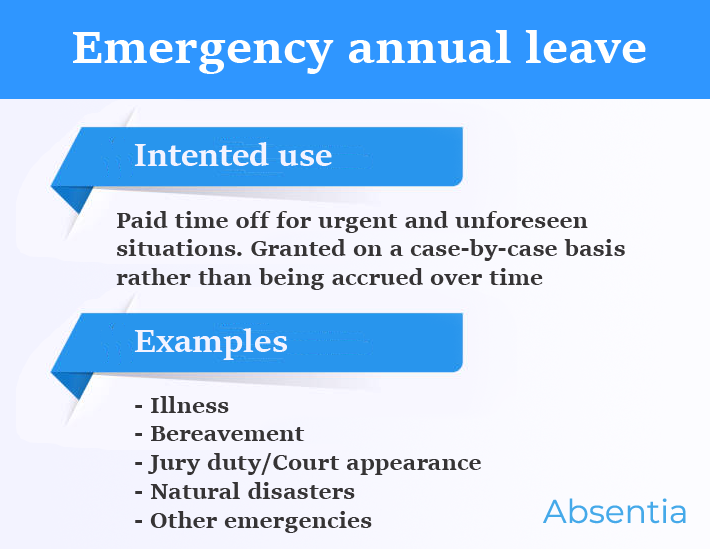 Creating your Policy
You want to create a positive work environment that supports your team and ensures their well-being. One of the ways you can do this is by having a good policy in place for emergency annual leave.
So, what exactly is a good policy to have for emergency annual leave? Here are a few key elements to consider:
Be clear and specific in your policy: Your policy should outline what qualifies as emergency leave, how much time employees can take, and how they should notify you when they need to take leave. Being specific and clear in your policy will help ensure that everyone is on the same page and understands what is expected of them.

Consider flexibility: Emergencies can happen at any time, and your policy should allow for flexibility in the amount of time employees can take off. Some situations may require more time than others, so it's important to be understanding and compassionate.

Plan for coverage: When an employee takes emergency leave, it can impact your business operations. Plan ahead to ensure that you have coverage for the employee's duties and responsibilities while they are away.

Treat all employees equally: Your policy should apply to all employees equally, regardless of their position or seniority. This ensures that everyone is treated fairly and that no one feels left out or disadvantaged.

Be supportive: Taking emergency leave can be stressful for employees, and they may feel guilty for leaving their work responsibilities behind. As a business owner, it's important to be supportive and understanding, and to offer your employees any resources or assistance they may need during this time.
By implementing a good policy for emergency annual leave, you can create a positive work environment that supports your employees and ensures their well-being. Remember, your employees are your most valuable asset, and taking care of them should always be a top priority.
Simplify with a leave management system
If you're looking for a reliable tool to help manage your employees' leave, consider signing up for Absentia - the leave planner. Absentia is a cloud-based staff leave planner that makes it easy to manage and track your employees' leave requests, including emergency annual leave. With Absentia, you can set up your own leave policies, approve or decline leave requests, and view your team's leave calendar at a glance.
Not only does Absentia streamline the leave management process, but it also helps ensure compliance with labor laws and regulations. With Absentia, you can have peace of mind knowing that you are providing your employees with a fair and transparent leave policy.