Absence reporting at the workplace
The way you do absence reporting is heavily dependant on the way you track your abences. The two common systems for tracking annual leave are:
Absence tracker system
Excel based planner
Reporting on absences is important to monitor and identify any potential problems with your companies absences. It's also useful to look at the historic data and plan for the future work while taking into account absences.
Absence tracker system
Most leave systems will provide reporting functionality within the application. The reports that you do get will depend on the provider and what has been implemented.
In our employee holiday booking system we provide a number of charts for quick access reporting such as the remaining allowance for each employee.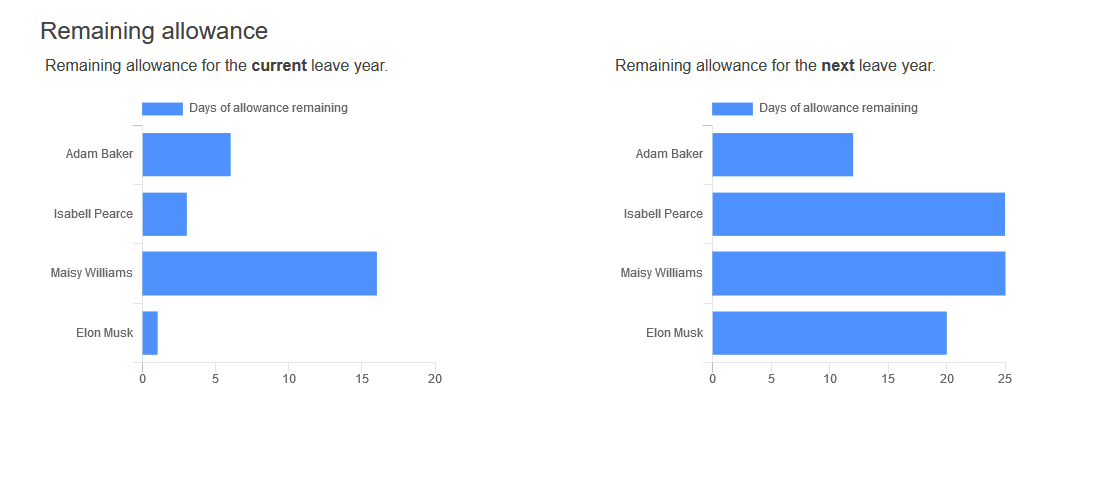 You can also download further reports via the Excel export functionality. By allowing all your data to be exportable to Excel you are enabled to break down the data in any way you require.

Excel based planner
Reporting in an Excel template is based on what the provided functionalities are. Though a plus with Excel templates is the ability to customise and add any reports you require as long as you're a little handy with Excel and it's formulas.

This is a screenshot from the free downloadable Excel leave planner template that we provide.